---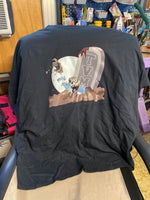 Howdy friends and family. Our punk band, The Vanilla Milkshakes have new t-shirts you can purchase.
Coming soon to our BandCamp page.
HTTPS://thevanillamilkshakes.BandCamp.com
These shirts are available in a varied selection of colors and sizes, made to order. Special thanks to the Colorful Threads dream team Turtle and Drew for making these t-shirts for us.
10% of all proceeds go to The Rock and Roll Animal Rescue in Los Angeles. Logo designed by master tattoo artist and graphic designer Tokyo Hiro.