---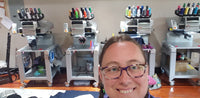 I'm Juliet and with over 23 years of embroidery experience, I can help you!
Certified Technician with 18 years experience!
Are you struggling with hooping issues, thread breaks, puckering or something else?
How about digitizing? With a video call can help you with this too.
Schedule time with me and I'll find a solution to make your projects fun again.
I will respond within 24 hours upon receipt of your order to schedule our time. Please note if it is urgent.
Thank you!